USEFUL INFORMATION FOR PLANNING YOUR WEDDING AT THAT AMAZING PLACE
The information below is provided to help make planning your wedding day as easy as possible! Hopefully I've covered most things you need to know, however If there is any additional information that you need, please feel free to contact me by phone or email.
Thanks, Angie
angie@thatamazingplace.co.uk / 07955 940532
CIVIL CEREMONIES
Ceremony Bookings / Timings
You should book your Civil Ceremony by contacting Essex Registration Services on harlow.ro@essex.gov.uk or 01279 433997.
Further information on fees etc can also be found at https://www.essex.gov.uk/Births%20Ceremonies%20Deaths/Marriages-Ceremonies/Pages/Fees.aspx.
You may book your ceremony to take place any time after 2pm.
Locations
If you are having a civil ceremony, there are 4 options for your ceremony location.
Lakeview Lounge – this room is used for ceremonies with up to 70 seated guests
The Hall – this room is used for ceremonies with 70-100 seated guests
Lakeside Gazebo – for ceremonies with up to 150 seated guests (weather dependent).
Marquee/Woodside Gazebo – for ceremonies for up to 150 guests.
Weather
If you have chosen to opt for an outdoor wedding ceremony, a decision will be taken on the morning of the wedding, when we know the weather forecast.  If there is chance that it may rain, then the ceremony will take place indoors.
What furniture/decoration is provided?
For indoor ceremonies, we use the Chiavari limewash chairs and a cream aisle runner.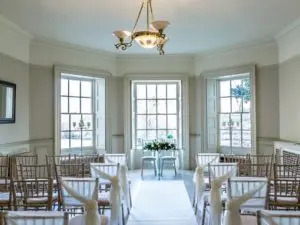 Note: Chair covers are not included, but we can help you to organise these if you wish.
For outdoor ceremonies, we use white wooden folding chairs and either a gold or red aisle runner.
Note: Flowers shown are not included.
We can also decorate the gazebo with curtains and swags for a small charge of £50.  If you would like to add this upgrade to your package, please contact me.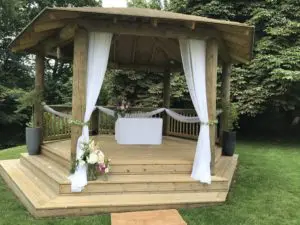 Music
We will provide a speaker system for your ceremony music.  Please provide the music on an iPod any similar device with a headphone socket. The ceremony music should be in a playlist in the correct order.
If you plan to use your phone, please ensure it is unlocked (with the passcode disabled) and on airplane mode for the ceremony.  Music should be downloaded directly onto the phone as music in the cloud wil not work once the phone is on airplane mode.
Please note that we are unable to play CD's.
ACCOMMODATION
Room List
Around one week before the wedding you will need to submit a room list telling us who is staying in which room – you can download a copy below.
Bedroom Guest List (14 rooms, including Wedding Cottage and Downstairs Room).
Please note that where the room description says "double/twin" the room can be configured as either, so please let us know in the "comments" column how you would like us to set it up.
Click here for Accommodation Floorplan.

Check-In / Check-Out Times
The wedding party may arrive at the venue from 11.30am on the day of the wedding and access to the Wedding Suite/Cottage.   Check out from the bedrooms is 10.30am the following morning and all guests must depart the venue by 11am.
Please could I ask you to make sure that your overnight guests are aware of the bedroom check in times, which are as follows.
11.30am – Wedding party (access to cottage only)
1.00pm – priority bedrooms (max 3 or 4 rooms to ready for 1pm)
2.00pm – all other bedrooms
Breakfast
Breakfast is served from 8am to 9.30am.  For breakfast we provide a range of cereals, fruit, pastries or a cooked sandwich (eg, bacon, sausage, egg). Please note that we do not offer a full English breakfast. There should be an option that works for everyone, however if there are any significant dietary requirements that we need to know about (eg, allergies or gluten free guests), then please add this to the comments section on the room list.
ACCESS TIMES
The Bridal Party and suppliers are permitted access from 11.30am.  If earlier access is requested by your supplier, please ask them to contact me to discuss their requirements.
Wedding guests may arrive at the venue from 45 minutes prior to the wedding.
Overnight guests can check into their rooms from 2pm.
Check out for the bedrooms is 10.30am and all guests should depart the venue by 11am the following morning.
DECORATION
Within your wedding package, we will provide tables, chairs and plain white table linen.   Coloured table linen is available at a small upgrade cost.
You may decorate the venue however you choose, but please do not attach anything to the walls. We are happy to help you to decorate the venue with simple decorations and dress the tables with your favours, etc.  However, if you are planning for a lot of decoration, please employ a venue dresser to organise this.
Candles are permitted in the house provided that the flame is contained, not exposed.  Tealights are fine.
Candles are not permitted in the marquee so please use LED candles.
You are welcome to have chair covers, provided that they are set up by a venue decorator.  Please do not plan to do this yourselves as there is not enough time during the wedding set up for this to happen.
Here are some useful measurements:
Cake table – 3ft round Fireplace (Lounge) – 160cm x 23cm
Windowsills x 2 (Lounge) – 120cm x 33cm
Fireplace (Hall) – 193cm x 19cm
Windowsills x 4 (Hall) – 25cm x 105cm
Ledges either side of mirror (Hall) – 306cm x 19cm
Staircase – the handrail measures 4m
Gold present/gift table – 113cm x 54cm`
Glass ceremony table (indoors only) – 130xm x 80cm
ROOM SET UPS
Weddings Breakfasts in The Hall
We can accommodate up to 80 guests inside the Hall for a wedding breakfast and seating options are shown below.
Depending on the number of guests, there are various options for the layout of the room – click here to view the options.
Please note that babies/children should be included in your table plan unless they do not require a seat/highchair.
Wedding Breakfasts in the Marquee
We can accommodate up to 150 guests inside the marquee for a wedding breakfast and seating options are shown below.
Depending on the number of guests, there are various options for the layout of the room – click here to view the options.
If you have not booked the marquee but would be interesting in using it then please contact me for further details.
CONFETTI
We allow the use of bio-degradable confetti in the garden and grounds.  Unfortunately, we cannot allow confetti to be thrown inside the house or the use of confetti cannons.
SUPPLIERS
Please keep me in informed of any suppliers that you book (eg caterer, florist, cake maker, DJ/band, photographer, videographer) so that I can update your Event Schedule. I will require a contact name, email address and mobile phone number and will make contact with them prior to the wedding.
Please remember that we have some fantastic suppliers on our website who we have had the pleasure work with at previous weddings – see Preferred Suppliers.   In addition to this, we have a Supplier Directory of local suppliers (please email me for copy) who have contacted us about their services (please note that we have not worked with these suppliers before, so are unable to personally vouch for them).
Don't forget that we have upgrades available such as LED dance floors, LOVE / MR & MRS light up letters etc.  Please see the upgrades section for more details.
UPGRADES
We offer a range of package upgrades, please contact me for more information or to add one of these options to your booking.
Curtains/Pole Wraps and Swags on Wedding Gazebo – £50
White LED Dance Floor – from £450
Illuminated "LOVE" / "MR & MRS" letters – from £200
Giant Illuminated Heart – £360 (note, this is not the heart for Piano DJ booth)
Starlight Backdrop – from £180
Magic Mirror – from £395
Chair Sashes – from £1.50 per chair (available from

Ellis Events

)
Crêpe Station – from £715
Ice Cream Bike – from £420 for 50 guests
Please note that this list is constantly being updated, so if there is something you need that we do now list, just contact me and I will try to source this for you.
DRINKS
If you have booked a wedding package, you will have already have details of what drinks are provided within this.  Our drinks package includes house wine as standard, but there are other options available.
Here is a copy of our current wine list – 2019 Wine List.
We can also offer bespoke drinks packages, so if you'd like additional drinks added to your current package, or perhaps something totally different, please contact me for more information.
Please note that if you are in the marquee for your wedding breakfast, you will require bottled water for the tables as there is no tap water available.  If this is not already included in your package, this will be an additional cost.
Bar – Our bar accepts both cash and card payments.   If you would like to put money behind the bar, then just let me now and I will organise this for you.
FINAL PLANNING MEETING
We will have a final planning meeting with the caterers around 4-6 weeks prior to the wedding date to pull all the final details together. Please be aware that these meetings are typically held once per month and will be on a weekday, so you may need to organise time off work.
Unfortunately, I am unable to facilitate additional ad-hoc meetings during the planning process, but If you have any questions prior this meeting, or indeed at any time during your wedding planning, please don't hesitate to call or email me and I'll always be happy to help.
LOCAL HOTELS
Mulberry Green
Old Harlow
Essex
CM17 0ET
Tel: 01279 442521
Cambridge Road
Old Harlow
Essex
CM20 2EP
Tel: 0871 527 8488
Edinburgh Gate
Harlow
Essex
CM20 2JE
Tel:  0871 984 6289
Southern Way (M11 Jct 7)
Harlow
CM18 7BA
Tel: 01279 829988
Quote "That Amazing Place" for discounted rate of £65 B&B
High Wych
Sawbridgeworth
Hertfordshire
CM21 0JU
Tel:  01279 600 777
TAXIS
As you are already aware, the music and bar finishes at 11.30pm, with the venue closing at midnight for all non-residential guests.
Please can you encourage all non-staying guests to book their taxi's in advance to save any long waits on the night.
We usually use ABC Cars on 01279 300900 or Metro Cars on 01279 444333.