Samantha and Andrew Say 'I Do' at That Amazing Place
There's a reason why we're called That Amazing Place – and that's because we truly want to make every experience at our venue feel amazing. This is what we did for Samantha and Andrew, from their first viewing That Amazing Place four years ago to the moment they drove away as husband and wife.
Samantha and Andrew met on their first night of university in Cambridge. In that moment, they hoped to make new friends – little did they know that they'd met the love of their lives! Living only four doors down from each other, they quickly grew close, and have been inseparable ever since.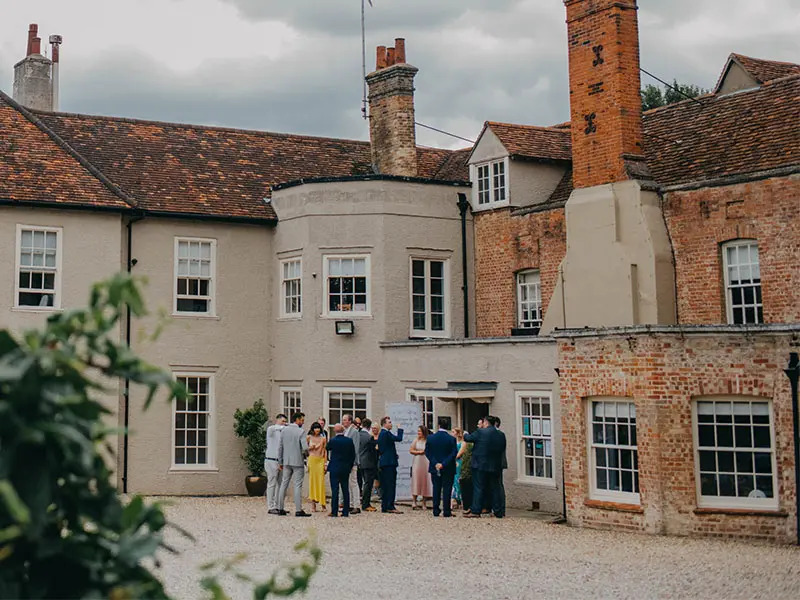 The Venue
For Samantha and Andrew, That Amazing Place was love at first sight. Samantha explains, "It had the wow factor of a big old style manor house, but was modern, which was exactly what we were looking for. The fact we had the whole place to ourselves was amazing and made it feel extremely personal." They were also particularly impressed by the gardens and lake, which made for stunning photographs. The fact that guests could conveniently stay at our bed and breakfast also helped Samantha and Andrew decide that this was the venue for them.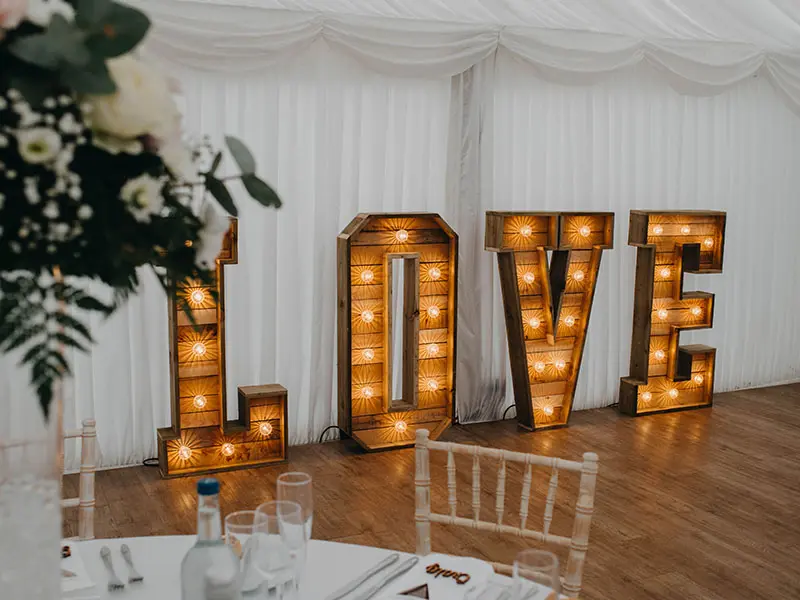 Theme and Entertainment
Although the happy couple didn't have a set theme for the wedding, they wanted to make sure it was modern and had a few personal touches. White, blush pink and wood effects were used throughout the wedding, making the marquee the perfect location for the wedding breakfast and reception.
The entertainment was provided by Andy from Herts Events who, as always, went the extra mile to ensure that everything went smoothly – he even asked Samantha and Andrew about songs that they particularly liked and disliked. As soon as the music started playing, he had everyone dancing their hearts out, and our bride and groom danced all night without ever sitting down!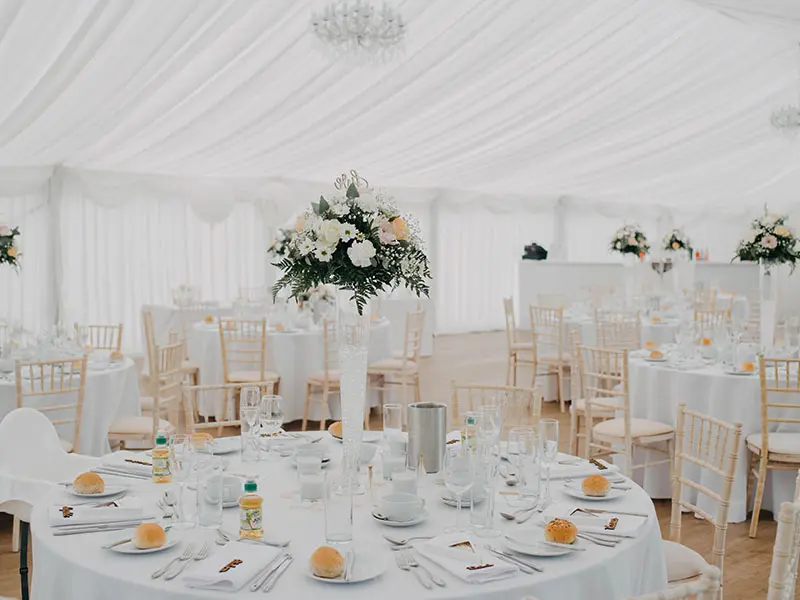 Samantha and Andrew also had a photobooth supplied by Pictureblast. "These made for amazing extra favours for guests to take away with them," Samantha explains. "And we got to see all the photos taken in our own little memory book." This proved to be a particular hit with their guests too – one of their friends took a video on the photobooth where they pretended to interview other guests about the wedding. This was made particularly hilarious because the guests were still wearing the photobooth's props! The next day, Samantha and Andrew were able to watch the video back and giggle at the sight of their friends and family being interviewed in costume.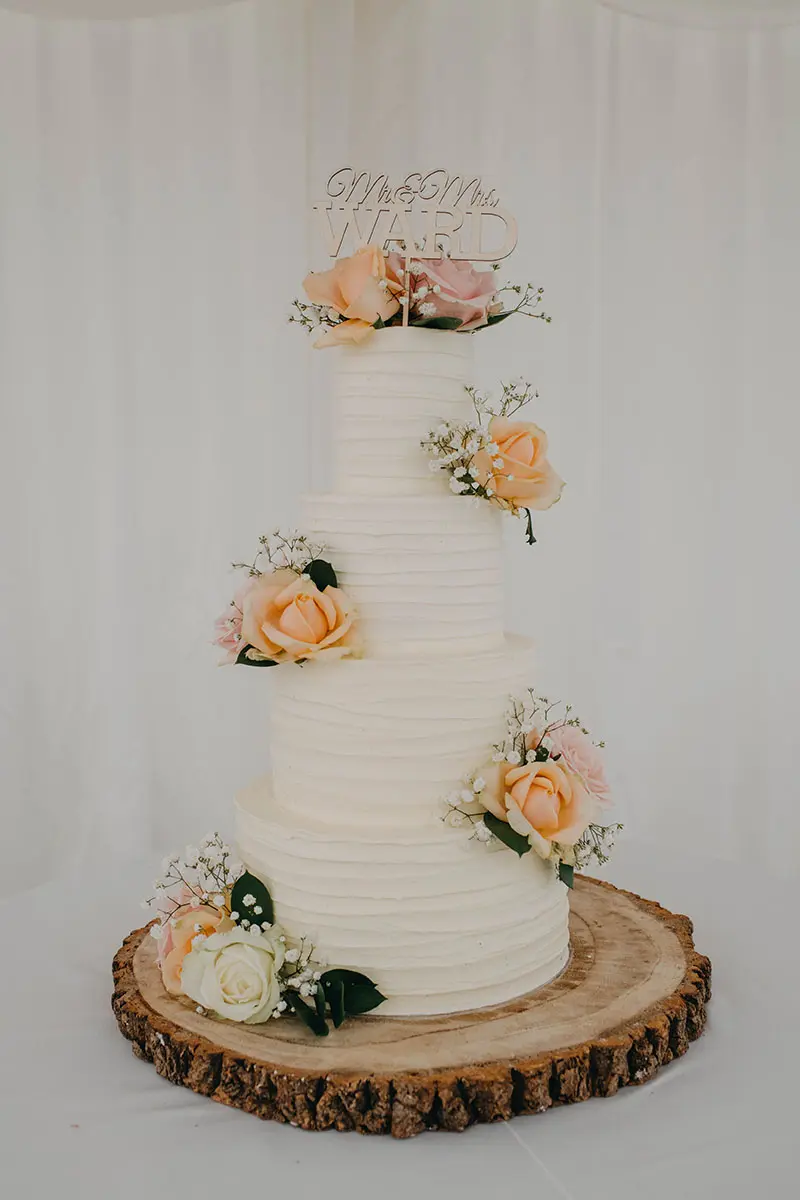 Flowers
The flowers, created for the couple by Bliss Flowers, matched the wedding's blush tones perfectly. Summer-y bouquets were placed as centrepieces for the top table and registrar's table, which matched the bride's stunning bouquet. Baby's breath adorned the pew ends, and the bridesmaids had bouquets of baby's breath and pink roses. To top it all off, more blush rose petals were scattered on the breakfast tables and on the aisle floor. All together, the flowers made a beautifully romantic setting for Samantha and Andrew's wedding.
Catering
A great wedding has to have great catering, and that was definitely the case here! Premier Crew Hospitality provided all of the food and drink, starting off with Pimms as a welcome drink and canapes (including halloumi sesame bites, pulled pork mini wraps with caramelised onion, roasted duck on potato, and mini burgers). For the wedding breakfast, everyone feasted on pate & melba toast for the starter, chicken with roast potatoes and veg for the main and chocolate brownie with ice cream for dessert.
Samantha was particularly pleased that there was a children's menu too.
 "They catered really well for the kids, who had burgers, chips, and garlic bread."
To round off the evening, everyone tucked into fish and chip cones which were a real hit! Our bride says,
"All of our guests absolutely loved the food and said the customer service was outstanding by all staff during the entire day."
Dress
Samantha found her stunning dress at Wed2Be in Chelmsford. An ivory A-line dress with a top corset, it had a sweetheart neckline and was covered in glittering sequins. Samantha was in love with the dress, but admitted that she worried if she would be able to fit in the loo with it on! Luckily, that wasn't an issue.
Special Moments
There were so many special (and hilarious) moments during Samantha and Andrew's wedding, which photographer Lottie Judd was able to capture perfectly! "One of the most memorable moments of our wedding had to be when the registrar accidentally said husband rather than wife, which had the wedding guests and us in absolute hysterics!" says Samantha.
"Our second most memorable moment was the ducks walking in front of our romantic photo shoot in front of the lake. They loved getting involved and again made great photos."
She also had to mention the moment that her entrance song started playing.
"This was the first time I felt nervous the whole morning. But once I took a deep breath, I was fine. My husband, on the other hand, started bawling from the first note!"
It is such a privilege to help couples such as Samantha and Andrew create the wedding day of their dreams. We wish our newlyweds a long and happy life together, and hopefully we'll see them back at That Amazing Place sometime soon!