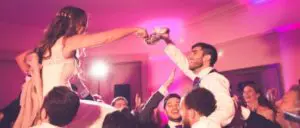 While the wedding ceremony may be the most important aspect of your day, your wedding reception is probably the part of your big day that your guests are looking forward to the most; getting it right, therefore is vitally important and one way to ensure it's perfect is to make sure it's fun. Here are some top tips to ensure you have a fun wedding reception from beginning to end.
Arrange your seating thoughtfully – this may sound like a very obvious notion but it's important to ensure decent and solid seating arrangement. Ensure each guest is with someone they know and people they get along with. While it may seem a great idea to play matchmaker, it never is. Just remember, while they're there for you, they're also there to catch up with friends too so let them enjoy themselves as much as possible. In other words, sit your younger cousins with other kids their age and let your school friends sit next to each other too.
Give out amazing wedding favours – show your guests just how much you appreciate them with amazing wedding favours from take home treats such as donuts, coffee beans and mini bottles of prosecco to a cute plant, a pair of sunglasses or even a key ring with your wedding date and initials as a sweet memento.
Don't overrun on the toasts – we all love toasts, especially when they're funny. We all love to relive amusing stories but they can become an issue when they start to drag on somewhat. Anything longer than five minutes and you'll start to lose their attention.
Keep the little ones entertained – having children at your wedding is a debate that's often revisited on many a wedding forum but for those who've decided to invite the little ones, it's important to ensure they're entertained. Give them a designated area in which to play and have fun. You could even arrange for a children's entertainer to set up movies, games and arts and crafts in a separate room to keep them entertained. A little extra time spent on the kids entertainment will ensure a fun and enjoyable wedding reception for you.
Keep your first dance fun and unique – it's always fun to shake things up and that's especially so during your first dance. All eyes will be on you so it's the perfect opportunity to really wow your guests with a little something special. Anything from jazzing up a romantic start with a classic dance song, welcoming everyone onto the dance floor to a group dance that gets everyone involved; whatever you feel suits you most and makes it something fun to remember.
Offer the chance to change – we all love dressing up but there's something we all love even more and that's taking off those restrictive clothes and putting on something more comfortable. From a basket of flip flops for tired feet to giving everyone the opportunity to change into their comfy clothes for the remainder of the evening; ensuring your guests are comfy is a great way of ensuring everyone enjoys themselves even more.
Do you have some more tips for a fun and exciting wedding reception? Then let us know in the comments below!! Better yet, check out our suppliers page and find some fab entertainers to keep things fun and fresh at your upcoming wedding reception.
SaveSave