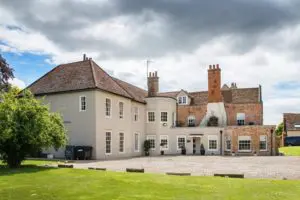 There are a number of reasons to choose That Amazing Place as your wedding venue, as so many do, but perhaps the biggest pull of our country house wedding venue is that it's an exclusive use wedding venue. With such exclusivity of course comes a myriad of benefits, many of which, couples won't even realise until it's brought to their attention and that's why we thought we'd explain just why choosing an exclusive use wedding venue could be the best decision you've ever made.
Everyone knows that little girls (and boys) dream of their wedding day from day dot but very rarely does that dream include meeting another bride, groom and their guests in the same venue, or perhaps even regular attendees of that venue wanting to go about their regular business. Just look at Pippa Middleton's big day, marred by the possibility of locals being able to attend the church and ceremony grounds while photos were being taken. We think we can speak for every bride and every groom out there when we say, no one wants this.
The Top 10 Benefits
From golfers teeing off, to other hotel guests reading the paper in the foyer while you prepare to walk down the aisle; a wedding day is meant to be spent with those you love most, not complete strangers. So, for this reason, our exclusive use wedding venue is quite simply perfect.
About to enjoy a Christmas inspired wedding? Then you'll be pleased to know that no sneaky neighbours from next door will be making their way inside during your nuptials, helping themselves to your free bar.
Wherever you choose to get ready for the day, wherever you wish to escape, you can do without the worry of bumping into complete strangers watching over you.
An exclusive use wedding venue offers you so much more security as you know only those you hold nearest and dearest are in close proximity, meaning the little ones can run riot without the fear of upsetting someone.
You get to enjoy that real feeling of exclusivity, making your wedding venue feel like home for the day. What better feeling on your special day?
With the added privacy that exclusive use offers you, you'll enjoy free rein to go mad with those personal touches without judgement from anyone not involved on your big day.
What could be worse than not only bumping into another bride but another person wearing a wedding dress? Thank goodness at That Amazing Place, that'll never happen…unless of course you have some very unkind guests.
We've heard some real horror stories in the past from other wedding venues where happy couples have become quite unhappy thanks to their wedding gifts getting mixed up with the other couple saying their "I do" at that very same venue. A hideous thought, we're sure you'll agree.
With exclusive access to our wedding venue comes exclusive access to our accommodation too making it possible for more of your guests to stay with you the night of your big day.
Last but most certainly not least, you'll have the undivided attention of our staff. With no-one else to think about, you'll have our attention dedicated entirely to you and your party. What could be better?