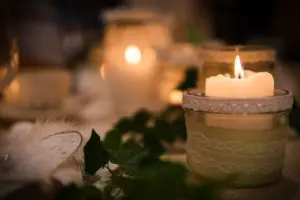 Christmas is the most wonderful time of year. Couple it with the festive season and it's a time like no other. Here at That Amazing Place, we've seen many a Christmas wedding so thought we'd share a few insights to help you plan the perfect festive wedding to keep you and your guests having the time of your life…
Christmas Trees – they seem like an obvious choice to most but let's not forget that they're one of the biggest symbols of Christmas for many. Whether you're religious or not, a Christmas tree is instantly recognisable which makes it an absolute must at your ceremony and venue. It's a super easy prop to include too as you can simply decorate it with your chosen wedding colours, keeping it in theme and of course, super chic. For table decorations, mini trees are ideal and once again, a little internet surfing will help you locate mini decorations in your chosen wedding colours.
Bridesmaid Gifts – this is something that often gets overlooked yet when you look at all the work your bridesmaids (and maid of honour especially) put into your big day, it's something that should really have a lot of though put into it. As it's Christmas, and of course winter, pashminas are obviously a fabulous idea. They not only look beautiful but can be worn on the day. You can also incorporate them into your day further by gifting pashminas that offer a pop of colour.
Keep The Little Ones Entertained – the subject of little ones at weddings is always a hot topic for debate but here at That Amazing Place, we know only too well the joy it can bring to have children at your nuptials. That being said however, it's important to consider the young ones when planning your big day and by that we mean, thinking of ways to keep them entertained and out of mischief. For those enjoying festive weddings, we've seen Father Christmas paying a visit bringing a few small gifts to enjoy and play with throughout the wedding breakfast. We've also seen couples utilise one of the smaller rooms as a "chill-out" room where Christmas-themed films are played such as the Polar Express or The Grinch. This not only keeps the kids entertained but also leaves the grown-ups with a little more space to enjoy your wedding too.
Christmas Colour Schemes – we know that it can be easy to simply opt for the obvious when it comes to a colour scheme; red and green of course but we also know that others will want to opt for something different. That doesn't mean that it can't be Christmas inspired. Berry shades such as deep reds and purples, along with winter whites offer a chic look and can make any wedding feel luxurious. If you're still looking for more options however, Pantone is a great place to start. From plums and aubergines to deep jewel tones, the world is your oyster.
If you're lucky enough to be holding your big day here at That Amazing Place, then you'll be pleased to know that our very own events manager Angie will be on hand to help you in any way shape or form, from your theme to the florist and more. For more information, simply contact us today.