As cliché as it may sound, there's no doubting that your wedding day is one of, if not, the most important day of your life but as with anything in life, money is always a factor. It doesn't matter who you are, where you come from or what you do for a living, everyone has a budget and while some may have what feels like a limitless budget, others may not be so limitless, in fact they may feel pretty limited indeed. This can be hugely disheartening for some but here at That Amazing Place, we want to tell you that it just isn't the case at all, especially not when you take a peek at the fantastic prices of our Twilight Wedding Package in particular.
Our Twilight wedding package was created to offer you the option of a beautiful wedding without the usual price tag and what's more, you get all that you ever dreamed of without having to compromise on the venue. Here at That Amazing Place, we know only too well just how much a venue can make or break your day. We have people wanting to marry here at our Essex wedding venue throughout the year and our Twilight wedding packages have only made us even more accessible.
Worried you won't get everything you'd like with this particular wedding package? Think again! Our Twilight weddings offer a late afternoon civil ceremony, one of the most romantic times of day we might add, followed by a rather generous canapé and drinks reception but that's not all. We also provide a generous sized buffet style evening meal too, allowing all your guests to fill their tummies while mingling and enjoying time on the dance floor. Our Twilight Weddings are perfect for those who want a less formal experience, moving away from the traditional seated wedding breakfast, instead choosing a more dynamic, informal setting that allows everyone to enjoy the moment with more freedom.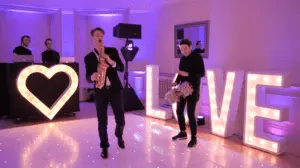 You'll also be privy to exclusive use of our venue, something that not all wedding venues offer yet it's one of the most common reasons people choose to marry here at That Amazing Place. We also provide two reception drinks per person as well as six canapés per person too, and that's before the hot fork buffet. Your guests (and of course yourself) will also be privy to a glass of Prosecco for toasting the happy couple as well as a cake stand and knife, ready for you to cut the cake and celebrate your big day. Add to this table decorations, tables, chairs and table linen and you'll see that it's all starting to come together nicely. We'll also provide a DJ for the evening reception as well as a dedicated event manager to help co-ordinate your day to perfection. Should you want any further help, you'll not only be able to ask our events manager Angie but we also suggest you take a peek at our suppliers list where you'll find quality suppliers from bridal gowns to florists who've all worked here at our venue already. Our Twilight packages start from just £6,265. For more information, simply contact us today.
SaveSave