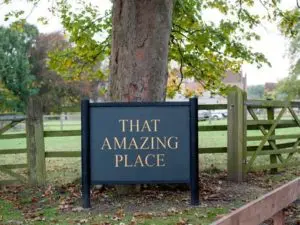 From snowflakes to pinecones, winter weddings are always usually full to the brim with these tried and tested motifs but you don't have to stick with these go-to pieces. Here are some fantastic ways to really reinvent your winter wedding here at That Amazing Place.
Wedding Colours – reds and greens are the obvious choice when it comes to winter colour choices but overdo them and you'll be left with a Christmas feel on your big day. As always, here at That Amazing Place, we suggest a less is more approach. Check out silvers and whites with a few crystal accents to really give you a wintery feel. Think white velvet aisle runners, white satin ribbons on chair and even elegant white orchids. If you're looking to battle the elements by exchanging vows outside, then you may even want to hand out transparent umbrellas and chunky knit blankets in white and grey tones.
Wedding Flowers – red roses and calla lilies are the obvious choice when it comes to wedding flowers in winter but what about stepping outside of the obvious once again and opting for different winter blooms. Consider much fuller flowers like hydrangeas or even ranunculus's. You may even want to consider using simple options such as white ribbons to accent the green stems of your florals. If you're looking to add a little sparkle, you may want to look at a few crystal embellishments too.
Wedding Invitations – with the majority of winter weddings being held indoors, the general consensus is that a winter wedding invitation should remain quite formal and as such, you'll want to look at heavy cardstock with perhaps some navy blues, maybe even chocolate browns with hand calligraphy. If you're looking to achieve the formal tone with something a little different, then why not look at frosted invitations with a little white/silver scripted ink? Finish them off with silver envelopes and you've got the perfect wedding invite for your heavenly winter wedding.
Wedding Table Centerpieces – if you're looking to do something different then you're going to want to think beyond the glowing candles to add warmth. Think of bringing the icy outdoors indoors to add drama with ice carved vases on tables. Fill the vases with winter white branches and even a few added crystals. This will help to reflect light from the tables too.
Wedding Drinks – who doesn't love a cocktail? We certainly do and we guarantee your guests will but a winter wedding calls for something a little more warming than your usual daiquiri. Think warming spirits and hot apple ciders. You might also want to consider those who may not be drinking too (thank the lord for designated drivers) and consider adding a hot chocolate beverage with a spin in the form of white hot chocolate and even eggnog if you're a fan of your American siblings?
Wedding Cake – last but not least, lets think about the most important piece in the room – your wedding cake. White, red and green ribbons look pretty, they also offer that Christmas feel again. If however, you can find a cake maker willing to push the fondant envelope a little, you're winning. Think of playing up the season once again with white vintage style cakes, such as the new "naked" cakes with barely any frosting. You could even opt for edible silver dusting and crystal drop accents to really create a winter feel.
If you'd like more top tips or simply a little helping guidance when it comes to putting together your winter wedding, simply contact us today. Our events planner Angie will be only too happy to help!