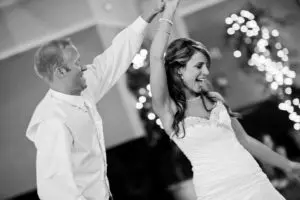 The first dance at weddings has taken quite a turn in the last decade. While it may once have been met with some anxiety, the first dance now is a time to shine. Couples have been taking their first dances to new heights with choreographed shows including the wedding party becoming a centerpiece for their big day and why not. There's certainly no denying now just how important and of course, how exciting the first dance is so let's take a look at just what's involved and how you can make sure it goes off without a hitch.
First and foremost, you need to find the perfect song for you; it's your wedding day after all so it's only right that your chosen song represent the two of you as a couple. Whether it's silly or serious, find your perfect song and stick with it. We've known couples to salsa dance to their favourite Spanish inspired song and even some to grab their friends and make it a joint effort. It's all about what works for you. On that note, if you're not the sort of couple who enjoy taking centre stage, the perfect way to deflect the attention and still get to enjoy yourself is by getting your nearest and dearest involved. It's ideal for getting the party started too and ensuring everyone's up on the dancefloor. Whether you choose to do a routine with the girls or have the guys hustle round you as you swoon over your partner, it's always going to be a case of "the more the merrier". Struggling with ideas? Think flash mob and you simply can't go wrong.
Now before we build you up too much, we thought we'd rein it in a little by reminding you that it's important to know your limits; for the sake of your sanity on your big day of course. While the Dirty Dancing lift may seem like the perfect way to display your union, if you're not a dancer or at least have some kind of dancing background (and of course a partner willing to lift you), then it's best to stick to something a little less likely to end in a trip to A&E. Let's not forget, there's still plenty of time for merry relatives to attempt this and believe us, they more than likely will.
With that in mind, can we just remind you that your first dance isn't meant to be perfect? Unless the pair of you are professionally trained dancers, then trying to be perfect is just silly. While the dirty dancing lift may be off limits (because it's a health hazard), having fun with your friends and enjoying your first dance certainly isn't. Miss a beat or forget the next step? So what! Who cares? Just keep on smiling and show everyone just how happy you are on your big day. We guarantee everyone will be fixated on your smile, not whether or not you got the dance right! Your first dance should be about having fun, enjoying yourselves as a new happy couple and allowing everyone to see just why you said "I do" in the first place.
SaveSave