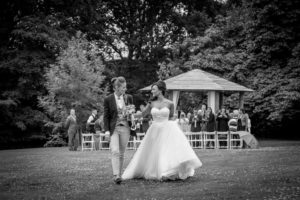 Real Wedding Blog – Victoria and Adele
It's been quite a while since we shared a real wedding story from our Essex wedding venue so today's blog post feels extra special. We're looking at the beautiful nuptials of one of the loveliest couples we've had the fortune of coming across, the wonderful Victoria and Adele Hughes. Victoria and Adele met three years ago at Brighton Pride, August 2014 through mutual friends. Victoria said, "we all met up and the moment we saw each other, we fell for one another and haven't really spent a day apart since" and the rest they say is history…
The Venue
When it came to choosing the venue, Adele and Victoria knew exactly what they wanted. Victoria explains, "We wanted somewhere solely exclusive to us. Adele had googled some places near to where we lived and That Amazing Place came up. As soon as we visited, we knew that it was the one." Here at That Amazing Place, we often find the fact that being an exclusive use wedding venue sets us apart from so many others. Our country house wedding venue was indeed exclusively Victoria and Adele's for their special day too and what's more, Victoria added, "there was nothing we needed to do to the venue. It was perfect as it was". Victoria pointed out they were after a "less is more" kind of feel. It wasn't just the venue itself that drew them here, the service was also a big pull as they both complimented the service from Paul and Jane, "from start to finish, Paul and Jane always made us feel welcome and was more than happy to facilitate our needs. The whole day was just perfect and a day we'll never forget."
Theme and Entertainment
As we previously mentioned, the reason Adele and Victoria loved our country house wedding venue so much (exclusivity aside) was that they enjoyed the 'less is more' feel. Though their wedding wasn't without a certain style with the pair opting for a real vintage theme, which included a fantastic sweet cart and a vintage photo booth. When it came to their entertainment, they used a company called JF Weddings whom they'd spotted at a wedding fair in Dunmow. He sang during reception drinks to entertain guests and also sang for their first dance. For the rest of the evenings entertainment, they hired a DJ to ensure their guests danced the night away.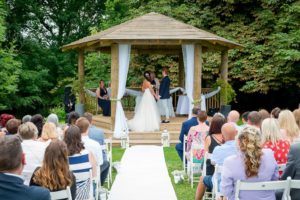 Catering
For their catering, Adele and Victoria used one of our recommended suppliers, Premier Crew Hospitality. They chose canapés with reception drinks, which included mini prawn cocktails, Welsh rarebit, tomato and mozzarella skewers and vegetable spring rolls. They then enjoyed a BBQ for their wedding breakfast with an array of dishes to cater for their guests. Sarah at Premier Crew Hospitality even provided brioche buns for the burgers, along with gluten free buns at their request. For desserts, the girls chose chocolate brownies, Eaton mess as well as mango and passionfruit meringue. For the evening, they enjoyed mini takeaways with fish and chips in cones, chicken and pittas as well as pizza. Victoria had this to say about our recommended caterers, "what we liked about Premier Crew Hospitality was the fact that they were coming round to the guests with the evening food. Sarah and her team were superb and every guest went away happy and well fed."
With Adele picking her suit from Asos, Topman and Curtis Hawes, and Victoria picking her bridal gown from Rock The Frock, these two beautiful women were guaranteed to look nothing short of stunning and the photos captured by the ever-talented Nigel Read Photography, only prove that fact. We couldn't have been more pleased to witness such a beautiful ceremony and wish Victoria and Adele all the best for the future.
Photo Credit: Nigel Read Photography