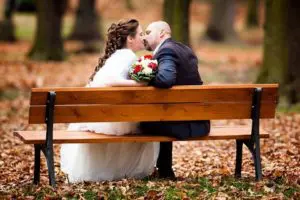 Autumn will soon be upon us at That Amazing Place, a country house wedding venue nestled in the heart of Essex, and what a season it is. Autumn is all about bringing the outside in so why don't you celebrate the annual falling of the golden leaves by featuring beautiful coppers, burnt oranges and even rust tones in your wedding colour scheme?
Autumn Inspired Centrepieces
Autumn is the perfect time to start keeping things natural, highlighting the beauty of the season in your autumn wedding décor. Look at seasonal fruits and vegetables such as red apples, pumpkins and even wheat (perfect for those wanting a more country inspired wedding) in order to form running centerpieces. You can ensure they pack a real punch by piling them on top of things such as wooden crates and positioning them at the entrance of your venue as well as along any mantelpieces available.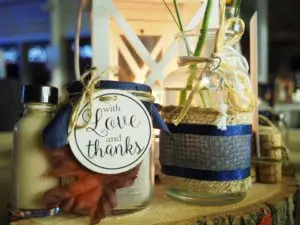 Autumn Inspired Floral Designs
Your flowers play a big part in your wedding, and as such, will play a big part in your theme. If you plan on opting for the theme of autumn throughout your special day then we suggest you ask your florist to preprare something appropriate. Use autumn inspired flowers in bloom, focusing on the warm reds and golden tones. Tie in a little hessian and lace too. You may even want to team your flowers with some trailing ivy and allow them to cascade romantically from your wooden crates. This is where choosing a country house wedding venue such as That Amazing Place can make all the difference. With our extensive grounds, you'll find the venue itself will even tie in with your theme and it's all thanks to Mother Nature.
Add A Human Touch
We always love a natural touch when it comes to a wedding but let's not forget, there are also some fantastic manmade accents that could be added to help with your autumnal wedding theme. Think about copper framed lanterns, metallic cutlery and even industrial style chairs. They'll help lift your autumn inspired wedding theme and give it a much sought-after rustic style that's becoming more and more popular.
The That Amazing Place Autumn Wedding Quickfire Top Tips…
Fill pumpkins with ice to use as wine coolers on tables
Use toffee apples as table decorations and treat the children once your wedding meal has finished
Pine cones are a great decoration, especially when sprayed in golds and warm reds; they're also affordable too!
Chestnuts are another great addition, especially when displayed in traditional jam jars or used to surround the base of candles.
Keep your invites in line too with leaf motifs in autumnal colours, or even gold for a more luxurious feel.
Tree stumps are becoming more and more on-trend as people have them inscribed as memorable items or treasure or as a "Mr and Mrs" display. If you have tree stumps big enough, you can use them as additional seating outside during outdoor games or as a wedding cake stand.
When it comes to creating an autumn wedding theme here at our Essex wedding venue, the options are endless. If however, you feel you need a little more advice, then please don't hesitate to contact our wedding planner Angie who'll be only too happy to accommodate and offer advice and guidance every step of the way.