So you've booked the venue and found your perfect dress but do you have the finishing touches finalised; say for instance your wedding nails? While these may not seem like the most important aspect of your day, it's finishing touches like this that make you feel all the more special. Let's take a look at the 2017 trends for bridal nails…
Bridal nail colour – your nail colour is the perfect way to experiment a little on your big day without venturing too far from tradition. From brighter colours such as reds, fantastic for adding an injection of colour while also working great with fifties or sixties inspired dresses to blues; this can be your "something blue". If you'd like to stick with tradition then you may want to stick with the popular request for sheer, glowing, natural nails. Neutral colours are always a good place to start if you're unsure such as neutral pinks; think ballet slippers if you're looking for inspiration. If you're struggling to find one that you really want, try layering different shades to create the perfect one you want. If your dress is white, you'll want a much warmer pink however, if your dress is ivory, you'll want a cooler pink.
Gels or natural polish – natural polish has been fantastic for years however, gels are quite literally unbeatable. They'll not only sail through your big day without a chip or care in the world but they'll also most likely last your entire honeymoon too. You can also forgo the need for drying time, the risk of smudges and of course the need for carefully sculpted enhancements such as tips.
Nail art – when it comes to nail art, we suggest you approach this with the same attitude you would your wedding make-up and hair. Will you still like the look in 20 years time when you're looking back through your wedding pictures? While minimal nail art won't look too gaudy, a bold print could prove a little testing over time. Remember not to give someone permission to "do as they please", this never ends well.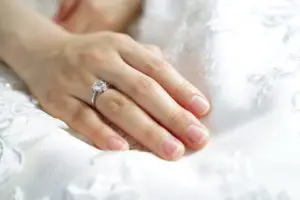 Nail technicians – as with any wedding service, it pays to do your research. You wouldn't let just anyone tend to your hair and make-up so why let just anyone fix your bridal nails? Many of our brides have a nail technician they use on a regular basis and will undoubtedly use for their wedding however, for those who may not treat themselves to manicures on a regular basis, finding the perfect nail technician can be a tough task. Thankfully we have a fab list of suppliers who'll be only too happy to help. For more information, simply contact us today.