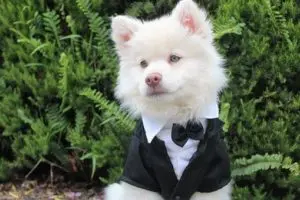 Weddings are said to be one of the most important days of our lives so it's only natural that you'd want your nearest and dearest there with you. For a great deal of couples, their "nearest and dearest" also happens to include their four legged, furry friend – their dog. Sadly, a great deal of wedding venues won't allow your dog with you on your big day. Luckily for you however, here at That Amazing Place, we happen to be a dog friendly wedding venue.
With that in mind, as any owner will know, having your dog with you can mean mischievous behaviour at the best of times. Your wedding day however is the one day you can't risk Rover doing a runner or stealing food from the buffet. Equally, you don't want to spend your day keeping an eye on your dog. Thankfully, there's now a fabulous service in the form of Walkies At Weddings.
Walkies At Weddings was created by the wonderful Sally. After her beloved dog Archie died, she decided to give up her job in London and start her own business offering dog walking and doggy daycare services. It was only when a client asked her to bring their dog to their wedding in 2016 that she decided to offer the service for other pup loving couples too. This means for those getting married at our dog friendly wedding venue, they can now enjoy their four legged friend's company as they say "I do".
Walkies At Weddings offers three different packages: Gold, Silver and Bronze. The Gold package offers a two night stay with your dog being taken to the wedding, during which time your dog will be brushed, transported to and from your weddings and looked after for the duration. Sally explained that most brides opt for the Gold package as the two nights boarding alleviates a lot of stress, something they don't exactly need any more of.
What's more, you can even now have your doggy dressed to perfection to match the rest of your bridal party. Included in their prices are the use of bow ties and sparkly collars. If however, you'd like to arrange your dog to have something more specialised such as a floral collar, or doggy veil, Sally will be more than happy to fit it to your dog on arrival.
Dogs are a major part of people's lives and if it just so happens to be the case for you, then Walkies At Weddings could be just the service you're looking for. From having your dog watched, as you walk down the aisle to creating cherished memories as you pose for wedding photos with your favourite furry family member, Walkies At Weddings can help. What's more, our dog-friendly wedding venue can make it happen for you. For more information contact Sally at Walkies at Weddings!