Are you about to embark on the search for your bridal make up artist? Unlike any other event in your life, your wedding day is perhaps one of, if not the, most important. Which makes finding the perfect make up artist all the more important. Like most brides (and grooms) we come across, making sure you find the perfect MUA for you, can feel a little daunting but as we've done this before many times, and found an incredibly elite list of make up artists ourselves, we thought we'd give you a little help on your quest by giving you some of the must-ask questions to help you select the professional for you. Without further ado, let's go…
Can you show me your portfolio? Word of mouth is perhaps one of the biggest ways that make-up artists get work but, and it's a big but, looking at a MUA's portfolio is key. While some may have a material portfolio you can flick through, others will have Instagram pages, which you'll find are just as good, or in some cases better. The reason being is that you'll often find the brides they've worked on will have commented on the photos showcasing their look, almost cementing the work the make-up artists carried out. Research is key so make sure you spend a little time looking at their background, from qualifications to previous clients and if you like what you see, you're off to a good start.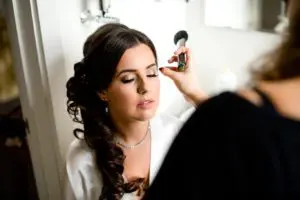 Will you travel to my venue? If your make-up artist can come to your venue then you'll create a lot less stress on the big day. We understand that a great deal of brides will be happy to have their make-up done at home before venturing to the venue however, for the brides who may be staying at their venue the night before, along with the brides who may have a substantial journey from home to their venue, this can often lead to stress. Make-up, as professionally applied as it may be, will never look as good as it does immediately after being applied so what better way to ensure you look your best than to have your make-up artist there to apply your make-up just before you walk down the aisle as well as offer a little retouch before the photos.
Do you include any other services? There are some bridal make-up artists out there who'll meet up with their clients a week or so before to tidy up eyebrows etc so this may be something you'll want to inquire about if you don't already have your own eyebrow stylist. Just remember, the last thing you'll want to be doing is touching your brows on your wedding day.
Which cosmetic brands do you use? Make up artists will always work with their own preferred brand, from Mac to Benefit and of course, some of the more elite brands such as Chanel and YSL but this needs to be taken into consideration, especially if you're aware that your skin doesn't react well to a certain brand. Perhaps you're particularly sensitive or a certain brand is too oily for you. If you find they use a certain brand that you aren't a fan of, then simply ask if they'll accommodate you before ruling them out completely.
Do you provide a make-up trial? Their portfolio or Instagram page may look impressive but the last thing you want is to be altering techniques or shades on the day itself. A trial day is essential to ensure you're happy with the products being used, the style of make-up being applied and the timing too. After your trial run, you'll want to take lots of pictures to ensure everything's looking as it should be and of course to show the MUA on your big day; they'll need a gentle reminder of what it is you agreed to.
As a popular wedding venue, it should come as no surprise that we've come across our fair share of make-up artists and as such, have compiled a list of who we think are the best, by far. Simply head over to our preferred suppliers page and check them out.