Jamie and Martin are another one of our exquisite couples whose wedding blew us away. To not talk about it would, quite frankly, be a sin. The effort from both ourselves here at That Amazing Place, along with the happy couple themselves resulted in one of the most beautiful days, and an emotional one too. So much so that the registrar on the day claimed it was one of the most emotional weddings she'd ever attended and she certainly wouldn't be forgetting it in a hurry.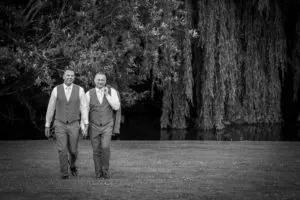 That Amazing Place
When it came to picking out the venue, Jamie admits that he didn't actually know the stunning 15th century manor house just moments from his home. It was actually brought to his attention by a friend who herself was attending a wedding fair the following week. Instead of waiting to attend the wedding fair, they decided instead to sneak a peek on the Friday before. Here they met the owners Jane and Paul and were in their own words, "bowled over by the venue!" Luckily for them, they also managed to grab a cancellation, booking their wedding almost a year to the date. Jamie and Martin found the traditional features, mixed perfectly with the contemporary décor was a winning combination and the whole reason they chose That Amazing Place as the destination of their nuptials.
Colours and Themes
The theme throughout was contemporary and minimal. Everything was to be kept simplistic and they achieved this by sticking to a navy and white theme. Everything from their wedding flowers to the cake (by Fifi's Cakery) and the invites were kept within the desired colours. Wedding invites were wrapped lovingly with navy ribbon while the centre pieces on the tables were incorporated too by creating visually stunning, yet simple, white gip balls with cream roses and blue thistles. The button holes for each gent were matching (of course) however Martin had an extra special one. Martin had, for many years, been a full time carer for his mother yet sadly, in 2013 she passed away. Not wanting her to miss out on his big day, the wonderful florist, who they've since struck up a friendship with, incorporated a beautiful picture of Martin and his mother within his button hole. A real lovely touch.
The Suits
When it came to their wedding attire, it was once again a case of matching the theme that ran throughout the entire wedding. Keeping things contemporary, much like the venue, Jamie and Martin both wore the same cut suit; the only difference being the colour. While Jamie wore bright blue, Martin wore a silver grey, both a stunning contrast with the navy and white theme. The wedding party which included Jamie's best man and Martin's best friend and Father all wore the same matching pink paisley ties and button holes. As you can imagine, within the surrounds of That Amazing Place, the pink and blue colouring within the wedding party's outfits looked stunning.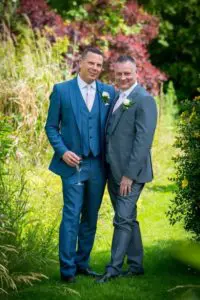 The Catering
Last but most certainly not least, we have the catering. Here Jamie and Martin picked one of our recommended suppliers, Magpie Catering. When it came to the catering, Jamie said they were both "blown away during the tasting. On the day itself however, it was just unreal. It was even better than the tasting. The canapés, everything. It was just amazing." They also had Magpie Catering provide something called the Bagel Show. This was a fabulous buffet style evening meal where people could have their very own bagel created from smoked salmon to hot salt beef and even cream cheese. This went down a treat, with guests saying how much they enjoyed it.
With all this in mind, Jamie's favourite bit about the day was simply having everyone they loved, all in one place together for the day and here at That Amazing Place, we couldn't agree more.
Photos by Nigel Read Photography.