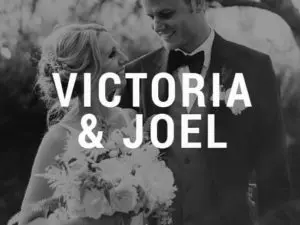 High school sweethearts Victoria and Joel had been together 12 years before they took the leap and said their "I do's" here at That Amazing Place and what a day it was. From the blush vintage roses and peonies giving the day a totally elegant feel to the soul band ensuring the dance floor was packed from beginning to end, every detail of this wedding screamed perfection and we were only too pleased to be a part of it.
That Amazing Place
For Victoria and Joel, one of the most important aspects of their chosen venue was location. They didn't want guests having to travel too far. A short journey meant they could ensure attending their wedding was easy and fun for everyone involved. After viewing a number of properties in the South East, they finally fell upon ourselves here at That Amazing Place and in Victoria's own words, "we knew straight away that it was the venue for us. The beautifully refurbished 15th-century monastery was the perfect blank canvas for us to transform and it offered 12 stunning bedrooms so all our family could stay with us the night of the wedding – it really felt like a home away from home." One aspect the happy couple loved the most about the venue was that they felt like they could really make the wedding unique to them. They were able to do anything they wanted, within reason of course, and weren't on a conveyor belt of weddings. They could quite literally feel the dedication of Angie, Paul and Jayne.
Colours and Themes
When it came to the theme and colour scheme of the wedding, Victoria admits that they never actually chose a colour scheme however they did find their wedding took on a key feature of blush pink, entirely unintentional. Their theme was minimalist and elegant which they commented was rather easy, simply letting the venue and flowers speak for themselves. One thing that Victoria did ensure was a big part of the day was calligraphy. Thanks to her love of this writing, she ensured it featured heavily within the stationary, all thanks to the designer Alex Gill.

The Flowers
Victoria and Joel chose the incredible Joanne Truby to bring to life their floral vision for the day. They were conscious they didn't want any room looking bare and decided to fill the ceremony room and marquee with foliage and lots of it. The foliage ran alongside white and blush vintage roses, peonies, astilbe and sweet pea, creating the perfect atmosphere and setting for their day.
The Dress
Victoria admits that unlike a lot of brides, she was actually quite open-minded when it came to the style of the dress she was going to wear. Victoria eventually decided on the incredible "Bella" dress by designer Flora. It was simple, sophisticated and fun which she feels suited the style of her wedding perfectly. To accompany her dress, she wore beautiful open-toed Aquazzura shoes and minimalist jewellery, some of which became her 'something borrowed' as she wore her mother's simple diamond studded earrings along with a delicate Tiffany bracelet that was bought as a gift from her bridesmaids. She ensured every accessory remained simple to leave the dress as the main focus.
With their one main goal, apart from saying "I do", to make it the best party ever, Victoria and Joel couldn't have made it a better day if they'd tried. As they say, it's important not to sweat the small stuff because as long as you have your friends and family with you, and of course enough to drink, you'll have the best day ever!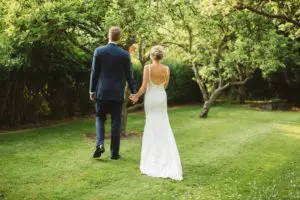 Photography by