If you're a regular reader of our blog, you'll know that we love to talk about weddings that have taken place here at That Amazing Place.  Today we're looking at the vows of Rebecca and Tommy. Self described childhood sweethearts; this couple has been totally inseparable since the 25th October 2002, which is perhaps why this wedding was so special to see.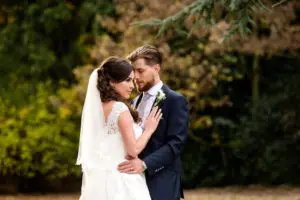 That Venue
After having spent fourteen years planning her wedding to the man of her dreams, Rebecca admits to being very particular when it came to picking the venue. Rebecca knew exactly what she wanted, she just couldn't seem to find it until her mum just so happened to mention our very own wedding venue. Rebecca said, "I think I knew straight away just from looking at the photographs that it was the place, I knew I wanted a church service and the beautiful church St Mary's in Churchgate Street was only a few minutes' walk away. I had always dreamt of a big wedding that felt like a home away from home, I'd always wanted to walk down a grand set of stairs and have people waiting at the bottom for me and to feel like I was at home, but a much grander home than usual. I also knew for certain I didn't want a venue that would have other people around using the facilities, which is why the fact it was an exclusive use venue meant so much to us."  
Another aspect of our venue that Rebecca and Tommy fell in love with was the rustic yet modern feel of the place, original features yet contemporary rooms, saying, "As soon as we walked in I felt at home, the real fire, the comfortable rooms, the amazing hospitality…we didn't need to look anywhere else."
Colours and Themes
While her friends and family expected them to choose a princess themed, Disney wedding, the happy couple opted for a rustic yet modern fairy tale wedding, akin to a Jane Austin novel. While they dreamt of fairy lights and rustic flowers, they also wanted to ensure a fresh feel. Beautiful green and white flowers filled their day to give it a real autumnal feel however Rebecca was quick to add that she still managed to include a few nods toward her love of all things Disney with a rose in a bell jar, a magic selfie mirror and some Disney songs recreated by an amazing pianist from Piano DJ, who also provided the music for their evening reception.  Romance was quite simply, the theme of the night.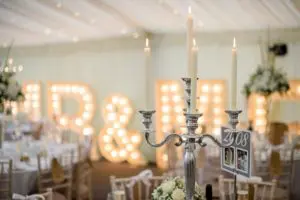 The Flowers
The wonderful Carla from Elegant Stems, whom Rebecca claims managed to decipher her ramblings on what it was she was looking for exactly, arranged their flowers. The flowers were classic and fresh, and kept a natural theme throughout. She had lots of lilies, arum lilies, roses, geraniums, gysephilia, ivy and autumnal greenery. Carla even managed to help Rebecca when it came to holding her bouquet correctly.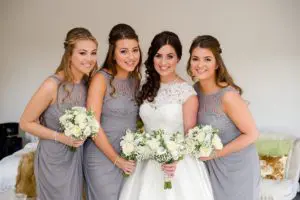 The Dress
The dress Rebecca wore came from Amorae Bridal in Ongar and was by St Patrick. Rebecca's main aim, aside from sticking to a few firm do's and don'ts was to find a dress she felt like a princess in, while flattering her as much as possible. We'd say that's pretty much every young woman's aim when choosing "The Dress" wouldn't you? Thankfully for Rebecca, a dropped waist, full skirt and bateau neckline were the perfect choice. The top half of the gown was boned and fitted around her waist with a beautiful and intricate lace detailing on top. The neckline benefited from eyelash lace, accompanied perfectly by capped sleeves. The bottom was a full pleated Mikado silk skirt. The best part of the dress however, was the fact that it had, "these amazing pockets that made me feel like a glamorous Hollywood movie star."
This wedding was elegant. It offered the perfect place for Rebecca and Tommy to honour their longstanding love for each other and we couldn't have been more pleased to watch them as they began a new chapter in their lives.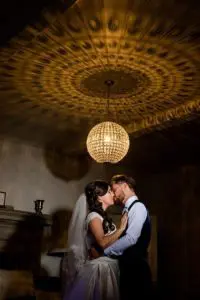 Photography by