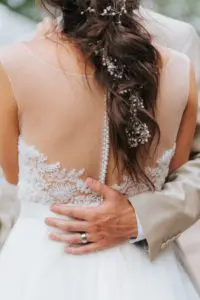 Are you getting married this coming spring? Then we're guessing you'll be enjoying your bridal hair trial sometime soon and what better way to stay prepared as a spring bride than to have a few ideas in your back pocket. Here are just a few fab spring wedding hairstyle ideas for the perfect inspiration…
Straight, smooth and sleek – the greatest thing about spring is that the weather remains pretty mild, neither too hot or too cold and that always gives you so much more wiggle room when it comes to your hair. Straight and sleek hairstyles are the ideal choice during a season when there's far less chance of frizz so enjoy it while you can. If you'd like to jazz it up then perhaps look at sparkly silver tiaras or even sparkly fascinators to take it from an everyday look to something really special.
Keep it floral – when you think of spring, flowers in bloom will always "spring" to mind (pardon the pun) so if you're looking for a thoroughly spring filled theme, think flowers. Keep it seasonal to really feel the airs of spring and keep costs down too. You could even extend this to your bridal look too. You could even match your wedding hairstyle to your floral bouquet to really keep things looking together. This look is particularly good for those who choose a simple wedding dress.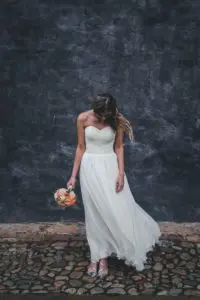 Pretty curls – whether you're naturally curly or not, a curly 'do' on your wedding day is nothing short of perfect for a spring wedding. Taking into consideration the low chance of frizz and of course, the versatility of curly hair and it's easy to see just why it's such a popular choice. Being so versatile means you also have the ability to make it as dramatic as you want too.
Bohemian beauty – if you're leaning toward a bohemian style wedding dress then you'll need the ultimate bohemian hairstyle to match and there's more than one way to unleash your inner hippy. Think messy waves, think flowers and of course, think plaits. Fishtail plaits are incredibly popular at the moment, along with ombre hair. This is where baylage hair makes a big impact too. Make the most of your unique hair colour and nail the boho vibe with those all-important accessories.
Non committal hair – not sure whether you want an updo or long flowing tresses? Then enjoy the best of both worlds and opt for half up and half down. This is such a classic do it was even selected by the amazing Kate Middleton back in 2011. One of the greatest things about this hairstyle is that you can make it as glamorous or as simplistic as possible. Plaits can be added, or simply a wedding veil for a more traditional appearance.
If you'd like more information on bridal hair and make-up or if you'd like to find a tried and tested make-up and hair stylist for your big day, check out our list of suppliers for the best professionals out there.
SaveSave