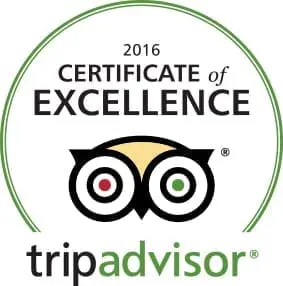 You may remember that not too long ago, we were thrilled to not only receive, but tell you all about the wonderful award we'd received, the "Stellar Stays Award". Now, while we don't like to brag, we do like to take a little time to highlight the recognition and appreciation we receive from not just our clients, but governing bodies around the world too.  With this in mind, you can only imagine our surprise and happiness to be informed that we'd been awarded a certificate of excellence, having been recognised for our superior service. The title from TripAdvisor has been awarded to That Amazing Place after its consistently great reviews and as such, we feel we must say a huge thank you to each and every one of you that took the time to leave such glowing reports.
So what exactly does this award mean for us? Well, the certificate of excellence from TripAdvisor is now a very well established award.  Now in its sixth year it is an achievement based award solely around the hospitality businesses that work hard enough to receive great traveller reviews. As mentioned above, if you take the time to hop on over to our TripAdvisor page, you'll see that we've received 126 reviews, 116 of which are "Excellent" and 5 "Very Good". We couldn't be more proud. In their own words, "The Certificate of Excellence accounts for the quality, quantity and recency of reviews submitted by travelers on TripAdvisor over a 12-month period. To qualify, a business must maintain an overall TripAdvisor bubble rating of at least four out of five, have a minimum number of reviews and must have been listed on TripAdvisor for at least 12 months."
This recognition however, isn't merely a pat on the back, despite the fact we'd be more than happy with such recognition. It offers much more than that, in fact with this award comes the ability to display the Certificate of Excellence logo, which in turn allows travellers and potential guests to not only identify but book properties that will deliver the quality of service they so highly desire.
Being a part of such a scheme is not only fantastic for our guests, but pretty great for us too. This award is something we couldn't be more proud of, hence our desire to shout it from the rooftops and tell you all. While we could keep telling you what a fantastic award this is, and just how important this is in showing the high standards exercised right here at That Amazing Place, we think the only way you're really going to appreciate it, is by seeing it all for yourself. To make an inquiry regarding a booking, simply contact us today. We look forward to seeing you all and showing you just what this award represents.